Customers connect to your Hotspot
Customers are encouraged to connect to the Sunflower WIFI Hotspot via signage or suggestions from your staff. Customers just simply need to connect to the WIFI hotspot at your location with their smart phone, tablet, e-reader, or laptop. Once they are connected, the Sunflower WIFI Hotspot will guide them, and within a few simple clicks they will be connected to the internet and ready to redeem your special offers with your cashier!
Customers are redirected to Sunflower WIFI Captive Portal
After your customers connect to the WIFI Hotspot they will be immediately redirected to the Sunflower WIFI captive portal. A captive portal is a special web page that is shown before a customer is allowed to use the internet normally.
Benefits
There are several benefits to adding the Sunflower WIFI captive portal to your free wireless hotspot, such as:
Boosting Social Media Presence
Building an Audience on major Social Media Networks
Expanding your Email Marketing Lists
Promoting your Offers and Events
Discovering what users are saying about your Business
Increasing your network security and protecting your EPOS systems
Reducing WIFI Abuse
Cloud based management
These are just a few of the many reasons to get started with Sunflower WIFI today. The Sunflower WIFI captive portal is completely configurable, as well! The logo, text, and social media networks as well as special offers and landing page are all completely configurable through our management portal! Click the device below to experience our simple but powerful portal for yourself. 
Click the device below to be redirected to a live demo!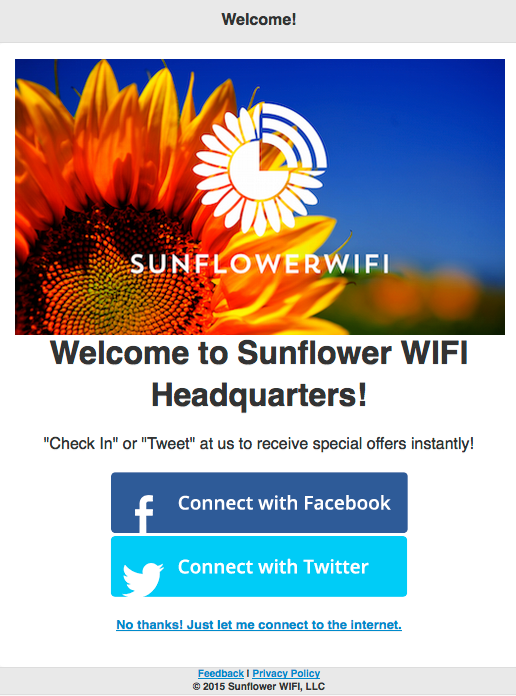 Make an Impression!
Your business details are displayed to your customer's friends every time a customer checks in to your business. An adult Facebook user has an average of 338 friends! That is a lot of impressions!
The low cost of the Sunflower WIFI Captive Portal means that, depending on your margins, you only need a handful of conversions for the service to pay for itself!